New Membership
"Sometimes in life we stand outside waiting for a door to open. We hope the person behind the door will let us in and be our friend. I was once on the outside until a door opened to me and behind it I found a sisterhood. Now I stand behind that door on the inside, hoping to open it to someone else who stands where I once stood."
Requirements for membership
Active 4-H membership of two or more years

Active participation in similar leadership-oriented organizations and experiences will also be taken into consideration.

Such activities include, FFA or other agriculture related organizations

Enrollment as a full-time student at Kansas State University for the upcoming fall semester

High school GPA of 3.0 or higher (high school senior) or college GPA of 2.65 or higher (transfer student)

Positive attitude, good academic record and leadership skills

Three letters of recommendation submitted with completed application

Interview (in-person or virtual) with current Alpha of Clovia members and alumni
What to expect as a new member
Mentorship, support and guidance from older members of the house

Formal supper and house business meetings every Wednesday night

Initiation into full membership during your second semester in the house, providing the following requirements are satisfied:

A 2.65 or higher GPA (with no 'F' grades) first semester

Completion of the New Member Training Program, as guided by the New Member Trainer

Completion of four hours of studying within your first semester

Weekly duties, starting at four hours a week your first year and declining with each year living in the house

Attendance in another organization's philanthropy each semester

Comepletion of four community service hours each semester

Be involved in one other on campus organization/club

Participate in house events

Such events include, but are not limited to Homecoming Week, Hospitality Weekends, Philanthropies, Initiation events, etc.
Apply now!
We are currently recruiting our Fall 2023 new member class.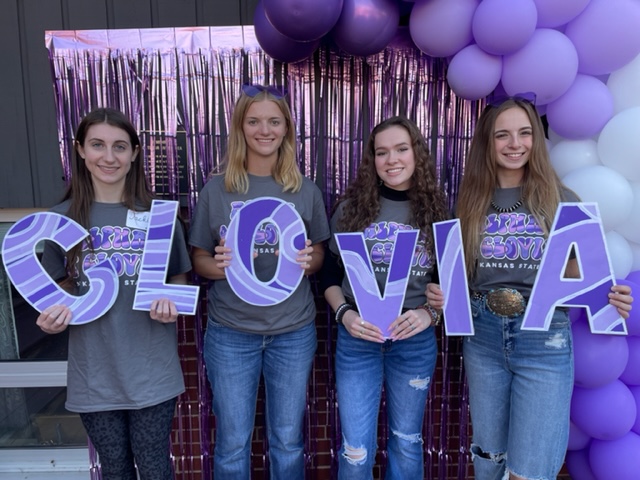 Want more information? Email our recruitment team at alphaofclovia@gmail.com.