Alpha of Clovia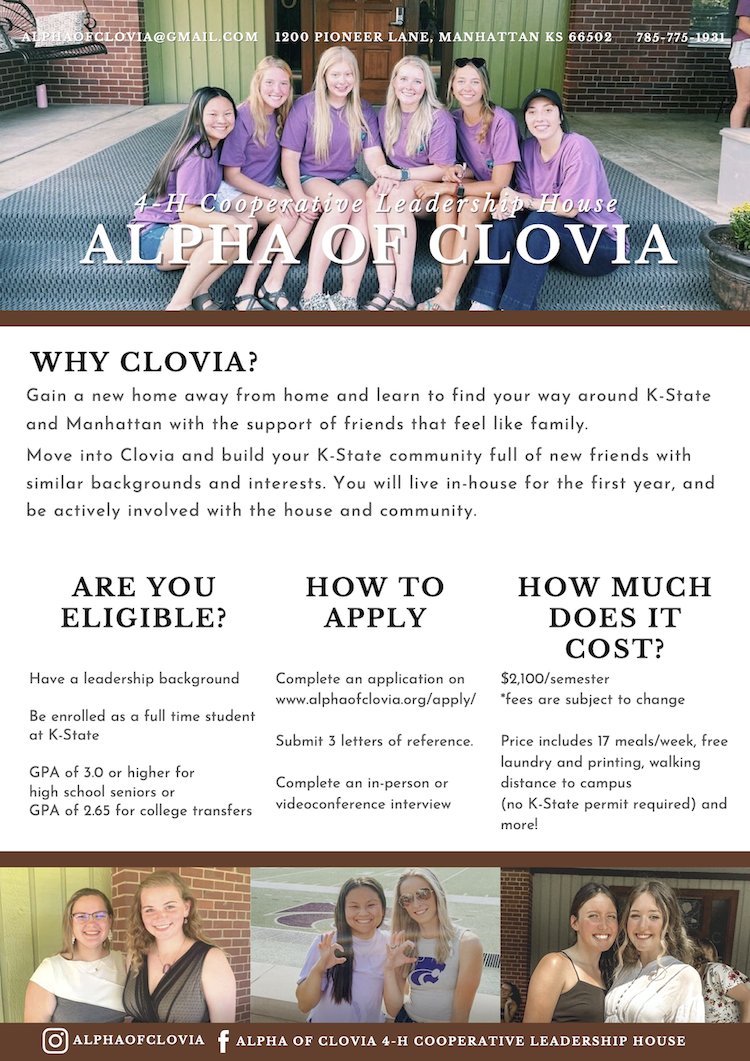 Alpha of Clovia is a 4-H Cooperative Leadership House located near the Manhattan campus of Kansas State University. Since 1931, the women of Alpha of Clovia have lived together in a cooperative manner – sharing housework and possessions to reduce the overall cost of living. Throughout the years, women from various backgrounds across the country have become members, participating in activities such as: philanthropies, house retreats, the annual national Clovia meeting, and homecoming, among other social events. All of these activities and more are done while maintaining a high sense of academic scholarship while studying at Kansas State University.
Housemother Search
Alpha of Clovia, Inc., located in Manhattan, KS is seeking a housemother for 50-60 girls with 4-H background.
Strong communication skills are preferred. A small attached apartment is provided. Resume, cover letter, and three letters of recommendations can be sent to Housemother Search, 1200 Pioneer Lane, Manhattan, KS 66502. Questions can be directed to President, Hannah Ballard, 620-437-6721, hpballard@ksu.edu or Alum, Cathy Musick at cathymusick0@gmail.com.
The purpose of the housemother position is to provide support to the members, and to uphold the Alpha of Clovia principle of providing a happy, adequate, and economical living condition. The housemother functions as a role model and representative of Alpha of Clovia at all times. She is to be loyal to the women of Alpha of Clovia. The housemother is expected to be approachable, yet sincere, and maintain a sense of humor. The housemother is to exhibit trustworthiness in regards to confidentiality of all house members and their parents or guardians. The housemother is to maintain the delicate balance between being a "mom figure" and allowing the girls independence as they learn self-sustaining skills during their time at Clovia.
View full job description here.
Visit our Facebook Page to see what our members are doing and updates about our house!